Submitted by James on Thu, 09/21/2006 - 9:30pm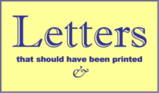 I have a friend who is forever sending letters to the News and Disturber, taking them to task for their sloppy journalism and such. Not surprisingly, the paper doesn't seem all that interested in her well-written commentary. So she asked me today if BlueNC could create a forum for Letters to the Editor that should have been printed. I think that's a terrific idea, so here you go! Please use this space to share what you're writing - whether it is published or not. At the very least, the thousand-plus visitors we're getting each day will have the benefit of your ideas and suggestions. Cheers!
Tweet
Tagged:
Twitter feed
Our Twitter feed is being periodically attacked and corrupted by Americans for Prosperity. Visit their Facebook page and tell them what you think about their bullying tactics.