Elizabeth Dole's response to petition: I'm powerless to stop the NC GOP
Submitted by Pam Spaulding on Mon, 05/05/2008 - 6:01pm
So does the clock at left stop? I didn't receive a response from Sen. Dole's pitiful Constituent Services Letter GeneratorTM. No autopen-signed missive to help me pretend that I heard from my senator.
What I did receive this afternoon was a fax from Communications Director Hogan Gidley of the Elizabeth Dole campaign regarding the petition that I delivered last Friday on behalf of 1265 readers of Firedoglake, Pam's House Blend, and BlueNC who signed the petition. The petition requested that the North Carolina senator ask Linda Daves of the NC Republican party to stop running the color-aroused anti-Obama ad called "Extreme," which tries to draw some sort of connection between Dem gubernatorial candidates Bev Perdue and Richard Moore (both endorsed Obama) and Reverend Jeremiah Wright.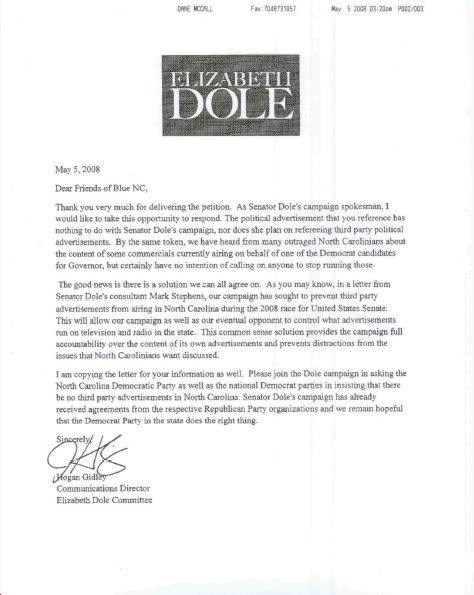 What was Dole's response? I have no idea, since the response is from Mr. Gidley, there's no way for me to know whether my senator actually read the petition. The letter I received is an exercise in predictable spin; it doesn't address the NCGOP's ad or her party's involvement and endorsement of playing to people's biases. Gidley:

Thank you very much for delivering the petition. As Senator Dole's campaign spokesman, I would like to take the opportunity to respond. The political advertisement that you reference has nothing to do with Senator Dole's campaign, nor does she plan on refereeing third party political advertisements.
So state parties can run amok. I guess it's hands-off for Liddy.
What the Dole campaign laughably calls for, in letter to NCDP party chair Jerry Meek from Dole consultant Mark Stephens (the second page of the document), is for the NC Democratic Party not to run any advertising against Dole, to tell her Dem opponent to refrain from anti-Dole ads, and to tell the national party not to run third party ads against her! Oh, this is rich!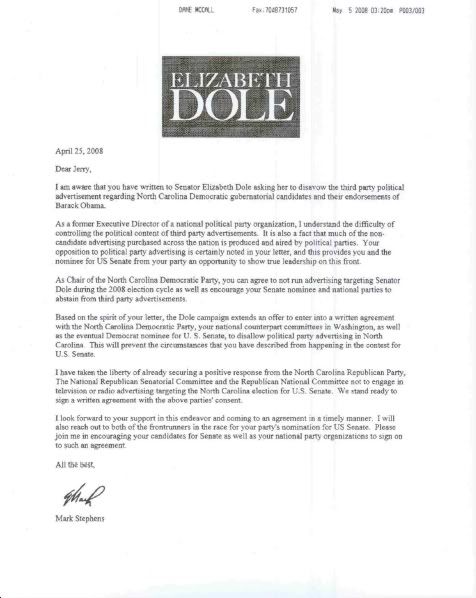 Stephens to Meek:

the Dole campaign extends an offer to enter into a written agreement with the North Carolina Democratic Party, your national counterpart committees in Washington, as well as the eventual Democratic nominee for U.S. Senate to disallow political party advertising in North Carolina. This will prevent the circumstances that you have described from happening in the contest for U.S. Senate.
Alrighty then. So if they cannot use traditional bottom-feeding ads, they propose no one runs any ads, even comparison of record ads, which do inform voters. Take their ball and go home. Well we know the GOP cannot run on its failed ideas, and Elizabeth Dole has a miserable Bush rubber-stamp record, so it's no surprise that we received a non-starter response like this.
Here's the video from my delivery of the petition:
Tweet
BlueNC is dedicated to making North Carolina a more progressive and prosperous state. If your intention is to disrupt this effort, please find somewhere else to express your opinions.