Submitted by James on Mon, 11/13/2006 - 5:22pm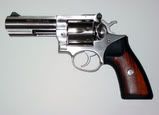 In his mindless ramblings today about the Democrats and the election, John Hood at the John Locke Puppetshow wonders out-loud if the moderate Democrats like Heath Shuler are secretly conspiring to take away America's guns.
Will Shuler and his center-right Democratic colleagues stick to their guns? Literally?
First off, there's nothing "center-right" about Heath Shuler. That's just more of Hood's happy-talk. After years of having the ear of North Carolina's media, John still thinks that what he says matters. The truth is, the only person paying attention to John Hood is me . . . and even I'm getting sick of it. So for the record, John, Heath Shuler is a conservative Democrat. That makes him center-left.
Second, everybody with half a brain knows that gun control is a dead issue in America, no pun intended. The left fought for sanity around guns for decades and, quite frankly, we lost both battle and war. Whatever progress can be made has been made. Gun control was not a campaign issue for anyone in any state that I'm aware of.
Pointing to the gun control issue is an old, tired trick that doesn't work anymore, John. It's like Karl Rove yelling "Cut-n-run!" for the thousandth time. Nobody's listening besides me.
Tweet
Tagged: