Submitted by James on Mon, 01/01/2007 - 8:22pm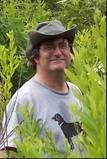 Last night, we introduced George Pence as a new front-pager at BlueNC. Today we're pleased to announce that veteran journalist Kirk Ross is also joining our ranks.
Kirk has been hanging around BlueNC as "kmr" for a good long while. You haven't seen him post much, but that's not because he's a slacker. Kirk is a prolific freelance writer and has other blogs, including Exile on Jones Street. When forced to account for himself last year, Kirk wrote this:
. . . a longtime North Carolina journalist, musician and public policy enthusiast. Before striking out on his own, he served as Managing Editor and online development manager for the Independent Weekly. Prior to that he was a reporter for the Chapel Hill News covering government, higher education, politics and schools. He won the North Carolina Press Associations' top investigative reporting award in 2002 for his work on post 9/11 immigration and labor issues.
Kirk will surely have lots to say about lots of issues, but the thing I'm most jazzed about is his coverage of state government. He knows the inner workings and hidden mechanisms of the North Carolina legislature as well as anyone – and has promised to keep a close eye on the 2007 session.
Please join me in welcoming Kirk Ross into the BlueNC barrel!

PS & Update: Be sure to check out Kirk's latest venture, a new citizen journalism blog and aggregator for Carrboro & surrounding environs . . . you can find it here.
Tweet
BlueNC is dedicated to making North Carolina a more progressive and prosperous state. If your intention is to disrupt this effort, please find somewhere else to express your opinions.