Submitted by James on Fri, 10/27/2006 - 9:17am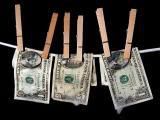 The rumor mill is abuzz this morning. Apparently the North Carolina Homeowner's Association (recently established to help builders get rich by electioneering protect American families) has been engaged in what most people would call money laundering.
In this case, the Realtor's PAC apparently "loaned" a shitload of money to the electioneering scheme, which may account for the fact that there are no contributions listed on the organization's filing. All of this, of course, brought to you by the Puppetmaster and the Money Laundering Watchdogs at the State Board of Elections! To my knowledge.
Tweet
BlueNC is dedicated to making North Carolina a more progressive and prosperous state. If your intention is to disrupt this effort, please find somewhere else to express your opinions.