Submitted by James on Tue, 11/13/2007 - 10:21am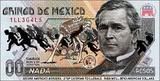 I offer this not as a solution to anything, but simply to humanize the issue. It is about my friend, whom I will call Alex.
Alex is the son of a middle-class Mexican family that couldn't keep it together in their home state south of our border. With too many children to feed, the father entered the US illegally 20 years ago. Ten years ago, when Alex was 18, he followed his father to America legally, on a work visa. When his visa expired, he chose to stay here illegally. When he tells the story, it's clear it was a hard decision. Had Alex returned to Mexico, he would have lost his job working at a cement factory. His father, who was injured and disabled at the same factory five years earlier, returned to Mexico and is no longer able to work. Alex is the sole source of income for his parents.

Two years ago, Alex met and married a US citizen. She is now pregnant. The couple had been planning to return to Mexico where the wife would teach English, but Alex's family tells him there is no prospect for any work whatsoever in the state where they live. If Alex leaves the US, he would be prohibited from re-entering for ten years.

At 28, Alex is the shop foreman in the cement company, responsible for maintaining all the company's machinery. The company knowingly hired him illegally and has kept him on the payroll for ten years now. They have withheld taxes, etc., from his salary, though Alex has no access to health care unless he pays directly for it in cash. Alex says that if others like him were to be deported tomorrow, every cement plant, asphalt plant, and paving company in the Southeast would be shut down overnight.
To my way of thinking, the fuel for the illegal immigration fire is our culture of capitalism and greed. The rich often get richer only when there is a permanent underclass that can be exploited for profit. This mindset is constantly promoted by free-market extremists who conflate "life" with "making money," and for whom there is no higher calling than buying low and selling high. In a predictable twist of hypocrisy, though, many of the extremists truncate their definition of "free" at the US / Mexican border. A truly free market would allow the unfettered exchange of goods and services throughout the world and would eliminate the economic significant of borders altogether.
I don't have a magic answer to anything, but I do know this: when cultural values conflict with economic interests, economic interests always win. We are a nation of hypocrites.
Tweet
Tagged: