NC-11: Multi-Millionaire Congressman Charles Taylor Pulls the Millionaire Trigger - Shuler Commences Ass-Kicking
Submitted by Gordon Smith on Tue, 09/12/2006 - 10:44pm
Heath Shuler's fundraising for his race against Charles Taylor has been nothing short of stupendous. Outraising Taylor and spending less left Shuler with nearly three times as much cash on hand as the disreputable incumbent.
In what has become a perennial campaign habit, Charles Taylor took out two loans for his campaign totaling $850,000. That is, he's borrowing money from an unnamed bank to run against Shuler. Any candidate who gives more than $350,000 of his own money invokes the so-called Millionaire Rule.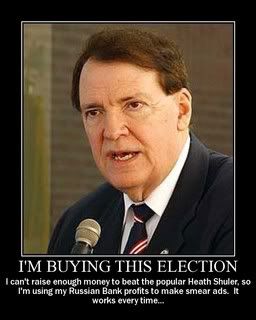 AC-T: "By putting his own money into the race, Taylor triggered what is known as the "millionaires' clause," which raises the contribution limits for opposing candidates.

For example, individual contributors to Shuler's campaign will now be able to give up to $6,300 instead of the standard limit of $2,100, Shuler campaign spokesman Andrew Whalen said."
Since Charles Taylor is unable to fundraise, he's going to give himself a loan then criticize Shuler for taking money from folks outside the district. It's Taylor's standard operating procedure, but it never gets any prettier. This money will be used to buy more bad ads than anyone in NC-11 has ever seen. So. Many. Bad. Ads.
Shuler's taking Taylor's admission of fundraising failure straight to Washington, D.C.
AC-T: "On Tuesday, Shuler will spend several hours at a skeet shooting fundraiser in a Washington suburb arranged by Rep. Mike Thompson, D-Calif., a member of the moderate to conservative Blue Dog Coalition.

The Blue Dogs, as members call themselves, have endorsed Shuler's candidacy and their political action committee has contributed $10,000 to his campaign.

Shuler also plans to attend the DCCC's "March to the Majority" fundraiser Wednesday. The minimum contribution is $250 per person and the proceeds will be divided among the candidates."
Shuler is seizing the opening created by the ineffective Taylor to raise an unholy amount of money as quickly as possible. In addition to the D.C. gigs, the Shuler campaign has sent an appeal to everyone (This Means You!) to vote at the League on Conservation Voters' Dirty Dozen election. Click away and then astonish your family by announcing, "I voted for Charles Taylor!"
Or get thee to Moore County.
The Pilot: "Moore County Democrats plan three Tuesday night "House Parties" featuring conference calls with congressional candidates and National Party Chairman Howard Dean.

The parties are scheduled from 6 until 8 p.m. on Sept. 12, two at private homes, the third at party headquarters in Carthage.

Clare Ruggles, an Executive Committee officer, says party-goers will be joined by a conference call with Congressman G.K. Butterfield of North Carolina's 1st District and candidates Larry Kissell in the 8th District and Heath Shuler in the 11th District. Also taking part in the call will be Dean, a former governor of Vermont and former presidential candidate.
For those of you with a thing for MoveOn.org, Operation Democracy is opening its Asheville office to much fanfare: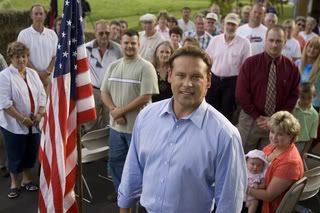 "Great news from MoveOn. They're so interested in our race and so impressed by your collective efforts that they are making Asheville one of just 40 campaign offices nationwide. And even better, we are opening
just about the coolest location right downtown in the Flat Iron Building, 12 Battery Park."
[...]
"To get our campaign into full swing, we are hosting a Campaign Kickoff Party this Friday at the new office. We'll do some recruitment calling at 5 p.m. and then start the party around 7 p.m. So please bring some
chips or drinks and any inspirational materials you can loan us (just until November 7) and we'll decorate the office as we get psyched to win back Congress this fall."
If you've been waiting for the right time to drop a few bucks on this enormously expensive race in NC-11, there is no better time than this. Taylor's worth about $50,000,000, so Heath's going to need every penny he can get. Click here to donate through Shuler's ActBlue site.
Tweet