NC-11 Republicans Try to Find a Candidate
Submitted by Gordon Smith on Mon, 03/26/2007 - 9:12am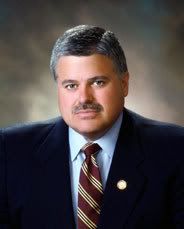 Pat McHenry, the little 10th district Congressman with the big talking points, came to Hendersonville to talk to dramatically backlit Tom Apodaca about running against Heath Shuler in November, 2008. Apodaca, an NC state Senator, had this to say, "I have spoken to former Congressman Taylor and let him know they have contacted me. I wanted to know his thoughts. He has not made up his mind, so as a courtesy, we'd stay in touch."
Lots of folks are waiting to hear Taylor say that he won't seek the seat again, and even old Bill Sabo, who never met a Republican frame he didn't like, thinks, "Republicans are trying to be deferential to Taylor but I think his time's passed,".
Tom Apodaca has conservative credentials as well as the requisite 'creepy' chops to rally the red-meat Republican base. This year he's cosponsoring S46, which provides birth certificates for stillborn children. Judging from this list of bills he's cosponsoring this legislative session, Apodaca spends a lot of time on teacher salary and school funding, Defending Marriage against the dirty homos, and increasing penalties for various laws. He sits on eleven different state committees and has a lot of monied friends to help him launch a bid.
Not that any candidate will need too much seed money, what with the NRCC, Club For Growth, and U.S. Chamber of Commerce all pledging to spend wildly to try to unseat Shuler in '08. This promised influx of money may encourage some of the other potential candidates to throw their hats into Taylor's old ring.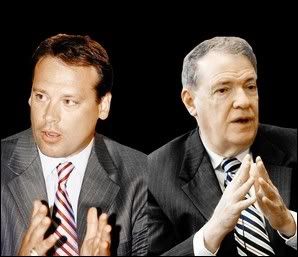 "I'm gratified to be receiving calls to run, but the promise is, provided Charles (Taylor) decides not to do so," [Four-term District Attorney Jeff] Hunt said Thursday. "But I think it's far too early for anyone to make that decision, and it's not clear at all that Charles won't be running."
Even if Hunt, Apodaca, and Taylor all decide to run, you can count on another quixotic campaign from BlogAsheville's favorite wingnut, John Armor. A frequent poster at The Free Republic, Armor's a constitutional lawyer with a big brain and a bigger ego.
Of the folks mentioned above, it seems Apodaca's the only one who could make a real run at the seat. He's got good name recognition east of the Balsam mountain range, good financial prospects, a conservative voting record, and the likely support of the Republican political machine once Taylor announces his intentions to spare us.
Senator Apodaca, BlueNC welcomes you to 11th District Congressional politics. We'll be writing a lot about you should you decide to run.
{c/p@ScruHoo}
Tweet