Submitted by gregflynn on Thu, 09/25/2008 - 9:40am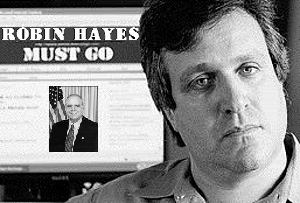 Joe Sinsheimer of JimBlackMustGo.com fame has set his sights on Robin Hayes. He and his wife Toddi Steelman are hosting a fundraiser for Larry Kissell this Sunday in their Raleigh home. Joe has been willing to wade in the deep end of dirty politics to do the right thing. He has a history of working in the background of campaigns. Most recently he ushered Jim Black and Thomas Wright to their defendants seats. He was an early supporter of Barack Obama as a Senator, having worked with campaign manager David Axelrod in the past. In 2006, being otherwise engaged, he was a quiet but solid supporter of Larry Kissell.
Joe's sense of righting wrongs goes way back. In 1989 Joe published a paper in the Journal of Southern History entitled "The Freedom Vote of 1963: New Strategies of Racial Protest in Mississippi" for which he interviewed Robert Moses and Ed King, the MLK of Jackson, Miss. In 1963, Mississippi blacks were denied not just voting right but also participation in the all-white state Democratic party. Moses formed the Mississippi Freedom Democratic Party which almost succeeded in disrupting the 1964 national convention. Their actions helped passage of the Voting Rights Act in 1965.
Joe has spent the better part of the last year in Vancouver, where Toddi was working as a Fullbright Scholar. The time and distance has given them a fresh perspective on state and national politics. The vision of Larry Kissell as a Congressman representing the 8th District has not changed. Join them on Sunday in Raleigh to help send Robin Hayes packing and to send Larry Kissell to Washington. Toddi Steelman writes to say:

This is to let you know that Joe and I are hosting a fundraiser for Larry Kissell, Democratic Nominee for Congress NC 8th District, at our house on Sunday, September 28, 2008 from 4-6 pm.

Larry represents the best chance NC has to pick up a House seat from the Republicans this year. He lost to Robin Hayes two years ago by 330 votes.

To learn more about Larry go to: http://www.actblue.com/page/kissell08 (for a short video) or http://www.larrykissell.com

Please drop by or send a check to support this fine candidate!

Current sponsors of the event include:
Governor James B Hunt, Jr.
Betty and Al Adams
Ken Eudy and Linda Davis
Mary and Bill Joslin
Emily and Parham McNair
Jeff Merritt
Howard Twiggs
Deborah Lamm Weisel and Michael Weisel
Leanne Winner

Toddi Steelman and Joe Sinsheimer
418 Elm Street Raleigh
Raleigh, NC 27604
Tweet
BlueNC is dedicated to making North Carolina a more progressive and prosperous state. If your intention is to disrupt this effort, please find somewhere else to express your opinions.