North Carolina Modernist Homes
Submitted by James on Wed, 09/18/2013 - 3:10pm
With so much going wrong in North Carolina these days, it's always reassuring to find something going right. In this case, modernist architects and fans of modern style continue to make North Carolina one of the premier markets in the nation for mid-century modern homes. Here's the page for the architect who designed the home I live in, Arthur Cogswell. And there's lots more where that came from.
Hats off to George Smart, curator of the North Carolina Modernist Houses website.
Most people are surprised, even shocked, to learn North Carolina has the third largest concentration of Modernist houses in America, more than anywhere else except Los Angeles and Chicago. Who knew that little ol' Mayberry would be a center for great residential architecture?

North Carolina Modernist Houses (NCMH), formerly Triangle Modernist Houses (TMH), is America's largest open digital archive for residential Modernist architecture. We are an educational resource with a heartfelt mission for the documentation, preservation, and promotion of Modernist houses.

NCMH offers the design-loving public an exciting source for North Carolina Modernist house tours, an extensive catalog of North Carolina and national residential architecture, and a community of knowledgeable advocates for Modernist preservation, construction, and renovation.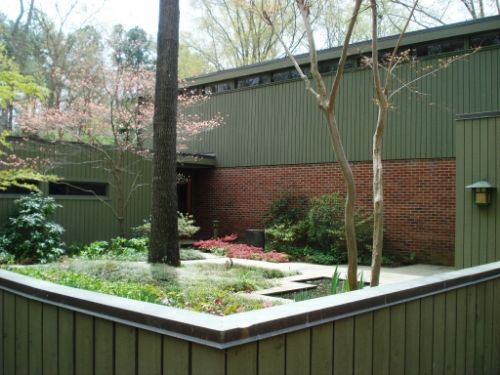 This is the front courtyard of our 1965 Cogswell beauty.
Tweet