Submitted by James on Tue, 01/09/2007 - 8:52pm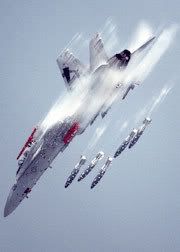 Over the past few days, I've written about the many questions surrounding the US Navy's mishandling of its search for a Outlying Landing Field. One of the best summaries on the topic is a 2005 editorial in the News and Observer (no longer available for linking).
With evidence suggesting Navy officials manipulated the choice, efforts to site a jet landing field should be scrapped. The U.S. Navy should withdraw its plan to build a practice landing field on an environmentally sensitive site in Eastern North Carolina, now that it has been embarrassed by disclosures in court documents. Those documents reflect e-mail messages among Navy officials essentially saying they felt pressured to justify the decision to build the field near the Pocosin Lakes National Wildlife Refuge. In that light, the decision-making process was scarcely a process at all.

The News & Observer's Wade Rawlins reported yesterday that these officials, members of a Navy team doing an environmental study of the site, had e-mailed each other complaining about having to back up the decision by top Navy leaders to buy 30,000 acres straddling Washington and Beaufort Counties and build a field. That decision came after the Navy made up its mind in 2000 to move 10 new Super Hornet jet squadrons to the East Coast. Those squadrons were going to Naval Air Station Oceana and Fentress Landing Field in southeastern Virginia.

Then came the recommendation to divide the squadrons between Virginia and North Carolina (eight in Virginia, two here). E-mails show that recommendation may have been made because of noise complaints in the Hampton Roads, Va., area, or because the Navy wanted to put squadrons in North Carolina to get the state's members of Congress to support the new landing field.

In any case, some on the Navy team involved with the environmental study were uncomfortable: Wrote Alan Zusman, one of them, in an e-mail in September 2002: "Don't know about you, but I have a very uneasy feeling about our criteria and the process." In a reply, another team member, Cmdr. John A. Robusto, wrote, "Up until the preferred OLF (landing field) site was chosen everything made sense and all decisions could be logically explained. Now we have to reverse engineer the whole process to justify the outcome."
Why bring this all up now? Because the Navy is coming back - probably next month - with a Supplemental Environmental Impact Statement. And the smart money says they'll be pushing for Site C once again.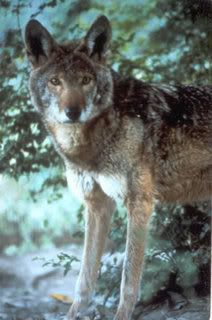 How do we know this? Because the Navy is already breaking the law (again) in its bone-headed effort to have its way. They are apparently trapping red wolves illegally in order to move them from their territories on the OLF site.
A few weeks ago, farmers who own land the Navy wants to acquire found a red wolf trapped on property the Navy has already purchased. They reported this illegal trapping to the Fish and Wildlife Service, which eventually released the wolf unharmed.
This is the same United States Navy that threatened a senior FWS official because he turned over information requested by the Southern Environmental Law Center, as required by the Freedom of Information Act. The official was called on the carpet to a regional office in Atlanta and told he would have been fired if he weren't so close to retirement.
This is NOT the same Navy I served in from 1968 to 1977. This is not the same Navy my father served in for 24 years. This is George Bush's Navy, a cabal of liars, crooks and power-hungry Republicans who are used to getting their way, even if they have to use force.
Which brings me to the end of this entry:
When I was down east this weekend, one NO OLF farmer told the story of two Navy representatives visiting his father's home with an offer to buy his land. When the elderly farmer wouldn't sell, the Navy representatives left, but not before one of them poked the old man in the chest and said, "We are going to own your land, old man."
~~~~~~~~~~~~~~~~~~~~~~~

If you want to help put a stop to this, write an email to your Congressman:
Dear Mr. Congressman,

By now you're fully aware of the unethical and misguided attempts by the US Navy to site an Outlying Landing Field in one of the most environmentally sensitive places in North Carolina. After being caught lying and "reverse engineering" their study, the Navy was rebuked in three separate courts. Now they are coming back for more.

It's time to put a stop to this horrible abuse of power. It's time to protect North Carolina's family farmers in Washington and Beaufort Counties. It's time to tell the Navy to find a better place for its outlying landing field. Please take action to block any future expenditures by the US Navy related in any way to the pursuit of Site C.

Thank you.
Resources:
No OLF web site
Southern Environmental Law Center
How you can help
Tweet
Tagged: