Submitted by James on Thu, 11/16/2006 - 8:51pm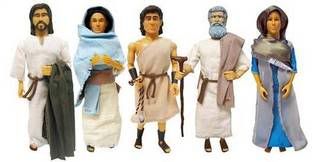 The United States Marine Corpss has decided to accept Talking Jesus dolls into their Toys for Tots program. Sure hope none of those dolls are gay, though the one in the middle looks pretty buff to me. Lord knows, the NC Baptist Convention would find itself in a swivet if that happened.
Guess what the old guy with the gray beard says when you push his button?

"You shall not make for yourself a graven image, or any likeness of anything that is in heaven above . . . " (Exodus 20:4-6 RSV)
I guess you make money selling Jesus action figures, there's no sense letting a little thing like the Second Commandment get in the way of bidness.
Tweet