Submitted by James on Sat, 03/01/2008 - 1:11pm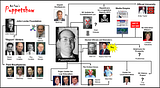 Map now updated with Myers Park Pat!
I admit to spending less and less time worrying about the "reports" and political activities spewing steadily from the Art Pope Puppetshow. Funded to the tune of $3 to $4 million annually by the knight of the right, the increasingly irrelevant John Locke Foundation and Civitas appear to have attracted all the converts they're going to get.
But as our handy-dandy (and updated!) map of the Show suggests, the Puppetmaster has infiltrated major media outlets and at least one major university, so they are definitely worth keeping an eye on. Which is why I was so pleased to see this post by Rob Schofield at NC Policy Watch yesterday. It's a doozy.
Meanwhile in North Carolina

Politicians, of course, are not the only ones that have to deal with friends on the fringe. Indeed, one of the more interesting angles on this issue is the matter of how conservative movement organizations handle the issue. Here in North Carolina, groups like the Locke Foundation and the Pope-Civitas Institute seem to want to straddle the fence.

On the one hand, both groups – particularly the former – clearly crave acknowledgment and acceptance as sources of serious, non-partisan policy analysis. Both have invested significant resources in snazzy websites and staffs that can crank out frequent reports and policy papers. Both frequently use the term "libertarian" (with a small "L") as a moniker in an effort to cultivate their images as "idea shops" rather than mere annexes for unemployed and would-be Republican politicians and campaign staff. Having said this, it's interesting to note that both organizations maintain close connections to what can only be described as the fringe elements.

Just this week, a person described by the Locke Foundation as the "Associate Editor" of its Carolina Journal newspaper and website, penned a "Carolina Journal Exclusive" in which he purported to have infiltrated a Planned Parenthood gathering. As it turned out, the infiltration produced nothing juicier than some quotes about the importance of comprehensive sex education and an excuse for the writer to fulminate about the evils of birth control.

::

Not that this author is the only one in the Locke-Civitas orbit with links to and sympathies for segments of the extreme and/or loony right. As noted previously in this space, one of Civitas' "legislative analysts" spent much of 2006 as campaign manager for America's most embarrassing congressional candidate, Vernon Robinson.
And who can forget Mad Max Borders, the big cheese of new media at the Circus, whose career in blogging should have ended when he famously argued that it would be morally acceptable to boil people alive if it served the interests of the United States of America.
None of this, of course, will stop Pope from continuing to spend millions toward his dream of privatizing North Carolina into his retail empire.
As they go forward, conservative politicians and movement leaders have a choice: disavow the wackier fringe members of the movement as John McCain seems inclined to do (at least for the most part) or embrace and include them in their day-to-day efforts. For now, North Carolina's two most prominent conservative think tanks seem to have opted for the latter option. It will be interesting to see if they continue to adhere to this approach.
Hmmmm. Prominent conservative think tanks. (1) Cut taxes, and (2) stop government at any level from planning.
That's thinking?
Tweet
Tagged: