Submitted by James on Tue, 01/06/2009 - 9:44am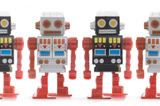 Rick Martinez just loves all the progress we've made in our trillion dollar war in Iraq and wants to see the same in Afghanistan. For a guy who fancies himself a friend of the military, he doesn't seem to know jack about war.

In an op-ed piece, David Price says the US should do something about Gaza, though it's not entirely clear what.

The Stagemanager reminds us about his magic plan for fiscal responsibility in North Carolina: build roads, gut schools and put more people in jail. Too bad he didn't include ending North Carolina's ridiculously wasteful participation in the so-called War on Drugs.

Adam Searing wonders why Blue Cross is rolling in profits while the State Health Plan could be coming up $800 million short this year.

Carter Wrenn says Cooper's Gene Boyce Skeleton could come back to haunt him if the AG decides to run for Senate against Rich Brrrrrrrr.
Tweet
Tagged: