Submitted by James on Wed, 01/07/2009 - 9:56am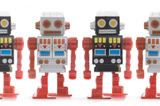 O-No! likes Perdue's choice of Gene Conti to head the DOT: because he's an insider. I guess they're going to like Lanier Cansler, too. He's even more of an insider.

Puppet-in-residence Joe Colletti says taxes = bad, deficit spending = bad, global depression = good.

Chris at NC Policy watch tirelessly takes on the Puppetshow, pointing out the methods behind their madness in supporting school segregation in Wake County.

Mountain man Carl Mumpower is still an idiot.
Tweet
Tagged: