Puppetshow Says 'No' to Calm Traffic
Submitted by James on Wed, 11/22/2006 - 10:44am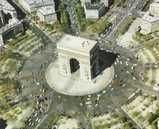 Consistent with its belief that planning in the public sector is an economic burden on hard-working millionaires, the John Locke Foundation Puppetshow has produced yet another "report," this time arguing against the practice of traffic calming. If you have the stomach for such things, you can find the "report" here. But don't expect much in the way of insight. The few points worth making are lost in a sea of obfuscation, conjecture, wishful thinking and misguided analysis.
As the Triangle grows, motorists face significant increases in traffic congestion. City and county planners are hired, in part, to suggest plans that will alleviate this congestion. Unfortunately, they are doing the opposite. Based on city staff recommendations, city councils in Raleigh and neighboring cities have fallen victim to the latest planning fad: traffic calming. This seemingly worthwhile goal has significant detrimental consequences, including increased traffic congestion, more deaths due to slower emergency vehicle response times, and unnecessary costs to taxpayers.
If Ms. Robinson had spent time actually thinking about this issue instead of having her strings pulled by the government-haters she works with, she might have looked across the Atlantic to cities in Scandinavia, western Europe, England and France, where traffic calming techniques (such as varied road widths, on-street parking, and traffic circles) have been used for decades to mitigate congestion, encourage transit use, and reduce accidents. To call this practice a "fad" is to betray a world view so constipated by American-centrism as to be quite nearly laughable.
The only defensible argument made in the report is the fact that some calming techniques might reduce the responsiveness time for emergency vehicles. That's a fair comment, but it fails to ask ... in comparison to what? If it takes five more seconds for an ambulance to get through a roundabout, is that really less appealing than sitting in gridlocked traffic?
After so much fury directed at the practice of traffic calming, the "report" goes out like a lamb, with much ado about nothing:
The City of Raleigh should consider some less costly and more effective alternatives to protect pedestrians and drivers. The Canada Safety Council* suggests "preventive traffic enforcement must become the number one priority …. Police must be visible and active in problem areas." Effective speed enforcement is also possible via red light cameras. The city could also consider using roadway striping and pavement marking, stop signs, signal coordination, yield signs, turning and parking restrictions, or better illumination to increase pedestrian and motorist safety. In Raleigh's growing downtown, the City should create as many one-way paired streets as possible. One-way pairs are safer for drivers and pedestrians and minimize congestion for commuters.
I daresay, the City of Raleigh has and is considering all of these ideas and more. But that's not really the point of the "report." Rather, this document is just like all the other nonsense that comes out of the Puppetshow. It starts with the presumption that government professionals are incompetent* and that planning strategies for maintaining safe and attractive communities are misguided. And, of course, it ends with a view about costs that ignores long-term livability in favor of short-term tax cuts.
~~~~~~~~~~~~~~~~~~~~~~~
* Holy cow. The "report" actually cite some damn foreigners in this report. Ms. Robinson should probably start looking for a new job. Everyone knows foreigners don't know squat, especially Canadian foreigners.
** There is some merit to the assertion of incompetence, certainly with regard to the NCDOT's mismanagement of I-40 construction.
Tweet
Tagged: