Puppetshow Takes to the Airwaves
Submitted by James on Tue, 02/05/2008 - 11:31am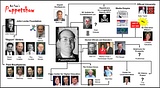 Last fall, WPTF-AM (in Raleigh) signed up Rick Martinez as Director of News Programming. In case you don't have the misfortune of listening to WPTF, it's the dull diamond in the Curtis Media Crown, 24 hours a day of non-stop, right-wing hate. The story was originally reported here. Initial response was muted, even as some listeners lamented Rickie's newest venture:
IMHO not a good choice. Rick seems to be too wishy washy.... never taking a stand. Most News/talk PDs I have worked with have a back bone.

I pray to God that this doesnt lead to bland programming. WPTF is flirting with that now with their "morning show" (that puts me to sleep). Or when Rick and his wife sit in. When I hear them on the air, they are a pushbutton away from being gone.
"The wife" in question is Donna Martinez, of course, a long-standing servant of the Puppetmaster. From the flow of information I observe, she occasionally feeds Rick's News and Observer columns - though it's sometimes hard to know which comes first. In any case, it all ends up spilling like sewage through the broadcast airwaves proudly owned by We the People.
So in honor of Rick's apparent successes with Curtis Media, I am pleased to offer today's update to the Puppetshow Map, complete with a new official radio station! You have to hand it to Art Pope. He has control of the "news" programming at one of the most powerfully divisive voices in North Carolina, and he didn't have to pay a thing.
PS The map is also updated to reflect Greg Flynn's post this morning about Michael Sanera, Insanerity.
Tweet
BlueNC is dedicated to making North Carolina a more progressive and prosperous state. If your intention is to disrupt this effort, please find somewhere else to express your opinions.