Ranking NC Congressional Pickup Opportunities
Submitted by Blue South on Sun, 03/25/2007 - 10:42pm
Please help out at kos
During the last cycle the political world was obsessed with rankings. Who had the best pickup opportunity? Which incumbent was most likely to fall? Should this race be #9 or that race? How many seats would the Democratic Party win?
Well, the punditry is continuing this, giving us endless rankings of the '08 presidential contenders, the top 10 this and the top 5 that. Well, I have decided to take this fun and exciting game to North Carolina.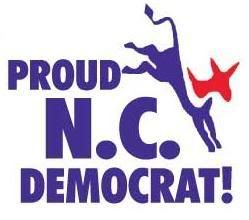 Top Tier
#1 NC-08
In 2006 Larry Kissell came within a vote per precinct of unseating Robin Hayes. Both are prepared for a hard fought battle in 2008. Getting national attention this early in the cycle should help Larry's campaign immensely.
Big questions:
What will the effect of a presidential race be? How much support will Larry get from the DCCC? Can Hayes fundraise with the specter of a national campaign hanging over his head, or will he abandoned by national Republicans early?
Second Tier
#2 NC-Sen
Elizabeth Dole is in big trouble. Her polling is atrocious and her war chest is tiny. However, without a declared candidate she is safe. By mid summer we should know whether to move her up or down.
Big questions:
How much money has she raised in the first quarter? Who will declare to run against her? Will she retire if a serious challenger comes along?
#3 NC-03
Walter Jones has grabbed headlines many times for his multiple stances on the Iraq War. In 2006, there were national rumors of a primary challenge, but there are now local whispers, and those whispers have actual names attached. With Marshall Adame already getting his campaign started, this will be an intriguing opportunity.
Big questions:
Will Jones be 'primaried'? How much money can Marshall raise, and how much will Jones have available? Can we overcome the difficult partisan landscape?
#4 NC-05
Roger Sharpe shocked people around the country with his strong challenge to Virginia Foxx. The question for both sides is: Was this a fluke or an early message?
Big questions:
What will the effect of a presidential race be? Who will run for this seat?
Third Tier
#5 NC-10
This heavily Republican district isn't the most friendly, nor is it cheap. However, Patrick McHenry has made few friends within the district, and word is that he has a candidate already working on building up a quiet run at the seat.
Big questions:
Can anyone overcome McHenry's cash advantage? Will McHenry be hurt by his recent antics on the house floor or does everyone who supports him already know he is a jerk? Will questions surrounding his personal life cause a problem?
#6 NC-06
General reluctance to bring a credible challenge Howard Coble is a big detriment to chances for a pickup. However, if a challenger were to gain state party support, and if Coble retires (the most dogged rumor of every election cycle), this seat would vault into the top tier overnight.
Big questions:
How long will Coble stick around? Will he be given a true challenge or will his opponent go unsupported again?
#7 NC-09
Sue Myrick looks safe and secure. While she denies the rumors, there are many who believe she is eyeing a statewide run. Although it is extremely doubtful she would jump at the chance to lose to Moore or Perdue, if Dole retires she would be viewed as the most likely replacement candidate.
Big questions:
Who will take on this monumental task? If Myrick takes on a bigger task how much better would our chances be?
Conclusions:
In 2008 North Carolina will pick up at least one seat, making our delegation 8 out of 13 in the house. We have great opportunities with another two seats, and its not out of the realm of possibilities that we could make serious bids at four or five seats.
How can you help? Get candidates in races at every level. Unchallenged State House and State Senate races cause irreparable harm to our up-ticket men and women. Help out declared candidates such as Larry and Marshall. Encourage people you believe in to run.
Tweet
BlueNC is dedicated to making North Carolina a more progressive and prosperous state. If your intention is to disrupt this effort, please find somewhere else to express your opinions.