Submitted by James on Wed, 05/16/2007 - 5:51pm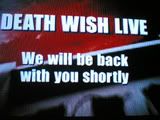 The evil doings of Pat McHenry and his band of merry men are symptomatic of a larger self-destructive frenzy going on in the Republican party these days. Apparently unable to control their darker selves, they have pushed the limits of decency and integrity on every front. Today's vote in the Senate to continue to fund Bush's war in Iraq is but the latest piece of evidence that the Grand Old Party has lost its soul. Rather than acknowledge their catastrophic leadership failure, they have voted to "stay the course" in a train that is running hell-bent over a cliff.
In the bare-knuckle world of electoral politics, both at the federal level and here in North Carolina, Republican intransigence is like manna from heaven. Just as Elizabeth Dole and Richard Burr waited too long to see the light on the insanity of the OLF, so too are they waiting too long to see the light on Iraq and on the politicization of the Justice Department. The same applies to the entire Republican Congressional delegation, with the possible exception of Jones. By voting to stay the course again and again, they are guaranteeing that the Iraq Debacle and Gonzogate will be front-and-center in November 2008.
Even worse, in their pandering to the lunatic fringe of their party, Rudy McRomney (a great name I found on the Tubes for these three nutballs) is ensuring that the 08 contest will come down to a simple paraphrase from Hamlet: To torture, or not to Torture. That is the question. And while a solid 40% of Americans will say "hell, yeah, pull their goddamn fingernails out," the remaining 60% will reject that horror with righteous indignation.
Here in North Carolina, the Greedy Old Party is on equally shaky ground. Conventional wisdom says that state races and federal races are apples and oranges, but conventional wisdom will prove wrong in 2008. The Republican party in North Carolina is fully complicit in the corruption, immorality and incompetence that is destroying our nation's character. Art Pope has looked longingly into the eyes of Rudy Giuliani and he likes what he sees: a fan of torture and a war-profiteer.
If you've ever been in a bad accident, you may know the eerie feeling of a slow-motion catastrophe. You see things wobbling out of control, but you are helpless to do anything about it. You know the crunch is coming, and all you can do is steel your jaw and hope for the best.
But in the train wreck that is the Republican party, the "best" in 2008 will not be very pretty. Bush's War and Republican Corruption will color every race, and the Democrats will have a clear and simple story: Republicans cannot be trusted to do the right thing.
The case for defeating each and every Republican Congressman will be easy to make. Pat McHenry helped keep Bush's War going and was knee-deep in Republican corruption. Virginia Fox. Sue Myrick. Howard Coble. Flipper Hayes. Walter Jones. They have all had a role in the decline and fall of America's integrity. Putting party ahead of country, they betrayed our trust every time they voted to enable George Bush's reign of error.
Republicans at the state level have been part of the problem too. At worst, they have been cheerleaders for the corporate takeover of democracy. At best, they have stood idly by and watched their party destroy American values in pursuit of power and wealth.
It's no wonder Republicans are discouraged. They are in the process of committing mass political suicide.




Tweet
Tagged:
BlueNC is dedicated to making North Carolina a more progressive and prosperous state. If your intention is to disrupt this effort, please find somewhere else to express your opinions.