Submitted by Gordon Smith on Thu, 02/01/2007 - 5:26pm
{addressed to WNC, meant for everyone. c/p @ ScruHoo}
Once upon a time in western North Carolina, the Democrats ruled every corner of the land. If you wanted a job, you'd call your party contact. If you wanted help getting around obstacles, you'd call your party contact. Those party contacts became very powerful men and became very complacent after winning elections for decades without even trying.
Then Charles Taylor showed up and stole the seat. He stole it by campaigning hard and spending money. He got out the vote, rallying an army of volunteers, phone-banking, glad-handing, coordinating with every county, every precinct on how to turn his voters out to the polls.
The machine Democrats were left holding the bag.
For 14 years, the old guard went through the motions and lost election after election. Still stuck in a pre-Taylor mindset, the machine Democrats waited for fate to intervene. Some areas got more organized than others, and those energized volunteers often ran into the old-guard's inertia.
Direct voter contact? What's that? Innovation? We like things the way they are.
It took a perfect storm of Taylor's malfeasances finally coming home to roost, a President with popularity numbers in the toilet, a socially-conservative Democrat, and a small army of volunteer heroes, both sung and unsung, to turn the tide and return NC-11 into Democratic party hands.
The Old Guard found themselves standing on third base and thinking they'd hit a triple. The progressives who busted their humps to elect Van Duncan, Susan Fisher, and the rest of the Democratic ticket found themselves celebrating victory but not being invited to stand with the Old Guard.
The way forward for the Democratic Party is to purposefully elevate the new progressive energy unleashed over the last several years while continuing to utilize the centuries of collective wisdom of the Old Guard. However, without the voices of the progressives, the Party stands to fall again into complacency, and there's no indication that the Old Guard intends to invite us to share the responsibility of organizing for 2008 and beyond.

The good news is that there's a way for all of us to get involved, be heard, energize the Party machine, and fundamentally alter the way the Democrats campaign. We do it by showing up at the Democratic Party precinct meetings and joining together for progressive change.
These meetings take place only once a year, and Buncombe County's are Saturday, February 17th. The meeting should take only an hour, but in that hour you can:
1. Elect precinct officers to moblize voters in 2008.
2. Propose resolutions to take to the County Convention in April.
3. Become a delegate to the county convention, where you'll have a chance to elect county officers who will lead Buncombe County Democrats out of years of torpor and into an energetic, winning future.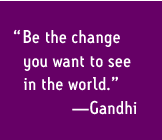 In most precincts, you'll find that there are a core group of people who know how to run the meeting. However, due to a paucity of new faces, you and your friends could likely walk in and be an instant majority. You could become a precinct captain, or you could studiously avoid such duty and simply get on board for the county convention. No matter how you choose to involve yourself, know that your willingness to stand up for change will mean a future free from the Charles Taylors of the world as the Democratic Party evolves to meet the challenges of a new political universe.
But I don't know how to do any of this! - Here is a link to the rules.
But I don't know which precinct I'm in! - Here is a link to find your precinct.
But I don't know where my voting location is! - Here is a link to your location.
I'm going to be writing more about this in the days to come. But right now is the time to mark your calendars - Saturday, February 17th at 10am at your precinct's polling place. Invite your friends and family. It's one hour out of our lives in which we can make an enormous difference.
[If you live outside of Buncombe County, contact your Board of Elections to find out when and where your precinct meetings are being held. Every county in the nation is holding such meetings at some point in the near future. Go find yours.]
[Ed: photo html edited by gf to remove blank links, em+strong edited in previous comment]
Tweet
Tagged: