Smithfield Closing Elon Plant, Five Others
Submitted by scharrison on Wed, 02/18/2009 - 6:07pm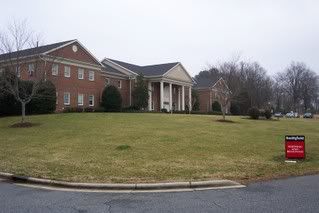 If the building looks like it's been around for a while, that's because it has. Before it was purchased by Smithfield in 2001, this was the original Stadler's Country Ham facility built back in 1955. I'm sure many reading this have eaten said ham, but you probably have no idea how connected our community is (was) to this business. But by the end of the Summer, that connection will be forever severed.
Citing issues such as a drop in sales and high grain prices associated with food-based ethanol, Smithfield Foods is "restructuring":
Here's a rundown of the affected plants:

*
The Smithfield Packing Co. South facility in Smithfield, Va., is slated to close in December. Of 1,375 employees, 1,035 will be offered transfers.
*
A Plant City, Fla., facility will close in September, affecting 760 employees. Some salaried employees will be offered transfers.
*
The Smithfield Packing Co. plant in Elon, N.C., will close in late summer. About 160 employees will be affected.
*
A John Morrell plant in Great Bend, Kan., will close in July, affecting 275 employees.
*
A Farmland Foods plant in New Riegel, Ohio, will close in April, affecting about 230 employees. Some salaried employees will be offered transfers.
*
An Armour-Eckrich Meats plant in Hastings, Neb., will close in July, affecting about 370 employees.
My first reaction when I heard about this on the radio yesterday was, "union-busting", as this decision happened so soon after the Tarheel plant voted to unionize. But it appears (on the surface) to have affected both union and non-union shops and personnel, and (so far) the Tarheel plant doesn't seem to be affected. It also appears that the 1,035 Virginia workers that Smithfield is taking pains to relocate are mostly union members, so it's entirely possible that Tarheel voted in the union just in the nick of time.
Union questions aside, I wanted to step back and focus a little on global issues, and how they may affect Smithfield's U.S. operations. Up until very recently, Smithfield has been engaged in a vigorous and often devious campaign to expand their operations worldwide:
In France:
Smithfield, through its
company SBS, bought out French cold meat
producer Jean Caby in May 2004, which a
news report said —is expected to create the
biggest group in the (cold meat) sector in
France," producing 95,000 tons a year.
Brazil:
Smithfield made a commit-
ment in 2001 to invest $100 million in pig
production in the state of Mato Grosso, after
the state's government provided tax incen-
tives.
As of 2004, Smithfield was operating
a new farm with 15,000 hogs 150 miles west
of Cuiaba in Mato Grosso
Mexico:
Smithfield also is a growing player in the
pork business in Central and South America.
Smithfield shelled out $24 million for its
share in Agroindustrial del Noroeste in Mexico, where the minimum wage for work-
ers is $1 an hour. Smithfield is now Mexico's
third largest pork producer, with 18,000 hogs
in Sonora and 14,500 in Vera Cruz as of
2001.
Poland:
Smithfield's holdings in Poland are
particularly extensive. Its Animex operator,
which took in $338 million in 2003, sells
nine brands of meats to Poles, operates six
subsidiary companies and seven processing
plants, and has a payroll of 5,300 people.
I think you're beginning to get the picture. Smithfield is huge—by far the biggest pork processor in the world. With their foreign operations running full blast, processing pork for a fraction of what it costs here in the U.S., where do you think Smithfield will cut jobs in a worldwide economic slump? Unfortunately, that was an easy one to answer.
This is about a mile down the road from the doomed plant: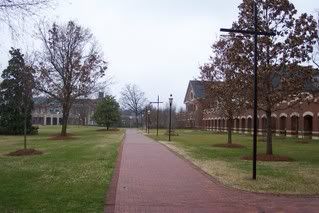 I know it seems a little desolate, but that's because they're in class right now. About a half-hour before this, I got stuck at a few pedestrian crossings and witnessed the migration of the studentbeeste. :)
So, as I watched the book-clutching students striding purposely (Elon's not easy), I found myself wondering: what kind of future do they have? Will they join the ranks of the unemployed after graduation? Go to work for their family business? What do they think about Globalization? Will they take their MBA's and become a part of the problem, or a part of the solution?
Tweet