Tour NC With Me – Pinehurst
Submitted by momoaizo on Sat, 10/14/2006 - 11:32pm
Algonquin, Sioux and Cherokee Indians roamed the Sandhills following the buffalo. Few settled the area primarily due to the thick carpet of longleaf pine straw that made for hard travel and quick moving fires in the lightening season. When the Europeans discovered that longleaf pines were a good source of naval stores such as turpentine and tar, the trees in the area were quickly used up and cut down.

The town of Pinehurst has only existed since
James Walker Tufts
fell in love with the area in 1895. He bought 6,000 acres of treeless, sandy land for $1.00 per acre and gave it the now famous name. ( Pinehurst was one of many submitted for a contest to name Martha's Vineyard.) Tufts, a philanthropist, initially built the town as a health resort for people with "the consumption" (tuberculosis). When it was revealed that the disease was contagious, he changed course and started incorporating more outdoor games such as tennis, yard bowling, horseback riding and roque,
Tuft's personal favorite.
In 1918,
Annie Oakley
of 'Wild West Show' fame, was brought in to teach shooting lessons at the Gun Club.
Originally carved out of the Pine Barrens, Pinehurst under the direction of Mr. Tufts became a self-supporting town. It had it's own department store, a theater, shops and trolley car lines bringing passengers from the train station in neighboring Southern Pines. The story is told that one of Tuft's dairymen complained about guests hitting little white balls and scaring the cows in the expansive pastures. Tufts investigated the complaint and discovered the game of golf, a recent import from Scotland. Even though he thought it might be a "passing fancy", he built a nine-hole course in 1897, and in 1900 brought in Donald Ross to build an eighteen-hole course. The rest, as they say, is history….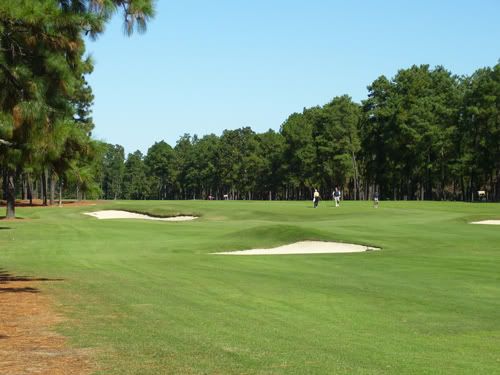 (From the Tuft's archives) In 1901, James W. Tufts, the founder of Pinehurst, hired Ross to manage golf at the Pinehurst Country Club. And there in the Sandhills of North Carolina Ross became instrumental in making the country's first major golf resort. Ross wrote in his book, Golf Has Never Failed Me, that "Pinehurst was absolutely the pioneer in American golf. … Men came here, took lessons, bought a few clubs and went away determined to organize clubs. … Their influence gave golf the sort of start it needed in many communities." Ross quickly became the country's pre-eminent and most prolific golf architect traveling widely promoting golf. His architecture practice grew to include several designers and offices but he did much of his work at his home in Pinehurst where he lived until his death.
Walkway in front of the Department Store Building
To recreate his New England style town, James Walker Tufts contracted the firm of
Fredrick Law Olmstead,
(the father of modern landscape architecture), to lay out the streets and design the town. Thousands of trees and bushes were imported to develop the beauty of this growing resort town.. By the 1920's Pinehurst became "The" place to go to get away from the hustle and bustle of northern city life.
During WWII, The Holly Inn was requisitioned by the US Army and turned into a hospital. During this time,
conscientious objectors
volunteered to be studied in medical experiments.
(from Friends Journal) Incongruously, the experiment was under the office of the Surgeon General of the United States Army, and its purpose was to study atypical pneumonia. ~ Army doctors and nurses gave me every needed attention, but there was no medication for the type of pneumonia I had. I stayed isolated in my room 24 hours a day for the full 7 weeks of the experiment.
Throughout the 20th century, Pinehurst experienced many ups and downs. In 1960, the Tufts family sold the property to Diamondhead Corporation because they could not afford to keep up the much-needed maintenance. Many locals however, felt that Diamondhead took more away from than brought to Pinehurst and were grateful when it was sold in 1984, this time to Club Corp.
Club Corp and Pat Corso are credited with the revitalization of most of Pinehurst and the Club's famous golf courses. They were instrumental in bringing the 1999 and 2005 U.S. Opens to Pinehurst and reminding the world of golf of this almost forgotten gem. (scroll down and take the "virtual tour") Today, the town is thriving, the hotels are full and property is at a premium. The courses are groomed to perfection, tee times are a precious commodity.

It has been announced recently that Pinehurst again has been sold, this time to
KSL Capital Partners.
(From The Pilot) All Moore Countians join in the hope and expectation that this latest ownership transition will only propel Pinehurst higher into the stratosphere of most desired recreational/residential locations on earth. The remarkable accomplishments that Pinehurst has racked up in the past century-plus will be an extremely tough act to follow.
Events and Festivals for next weekend:
MID-ATLANTIC STAR PARTY.
10/16/2006 - 10/22/2006
A congenial gathering of astronomers, photographers, scientists, and other night owls. Convened in a Dark Park under Clear Skies for the purpose of Looking Up. For upcoming MASP information go to www.masp.org, or contact Debra Cockman, Robbins Town Hall, (910)948-2431.
Airlie Oyster Roast
10/20/2006 - 10/21/2006
Airlie Oyster Roast is a time to enjoy friends, eat succulent oysters and dance to a dynamic live band, all at the coastal setting of the Airlie Gardens 300 Airlie Road
Wilmington, NC 28403 (910)798-7700
Mystery Theatre Dinner Train - "The Crypt of Passion"
10/6/2006 - 10/20/2006
Thursdays & Fridays only - 6,12,13,19 & 20. Rock'n'Roll fans return for a Halloween blast 25 years after The Crypt left the stage. Will Snake, the last surviving band member, survive to play again? Bryson City Depot Bryson City, NC 28713 (800)872-2681
Waccamaw Siouan Pow Wow
10/20/2006 - 10/22/2006
Come & celebrate the traditions of the Waccamaw Siouan Tribe. Arts & crafts, food and entertainment throughout the weekend. The parade will begin at 10:00am on Saturday morning. Indian dancing and competition and a social dance will also take place on Saturday. Old Lake Road - Buckhead
Bolton, NC 28450 www.discovercolumbuscounty.org
17th Annual Leaf Lookers Gemboree
10/20/2006 - 10/22/2006
The mountains are alive with more than fall color as gem & mineral dealers from across the United States converge on Franklin to sell their wares. Sponsored by the Gem & Mineral Society of Franklin and the Franklin Chamber of Commerce. Hours 10 am to 6 pm Friday & Saturday, Noon to 5 pm Sunday. 425 Porter Street Franklin, NC 28734 (800)336-7829
Tweet
Twitter feed
Our Twitter feed is being periodically attacked and corrupted by Americans for Prosperity. Visit their Facebook page and tell them what you think about their bullying tactics.