Waker Andrew Brock thinks Alcoa is more important than UNC TV
Submitted by James on Sun, 03/13/2011 - 10:15am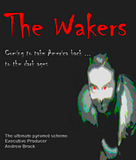 To the few remaining North Carolinians who actually care about an informed electorate, it's time to bend over and kiss your collective asses good-bye, along with UNC-TV.
Senator Andrew Brock, the dickhead who founded Mary Kay Politics, is holding public television hostage because it questioned the rights of private companies, in this case Alcoa, to own North Carolina rivers.
The Yadkin River runs through the district of Republican Sen. Andrew Brock, who supports Alcoa's use of the river. He was confounded by the network's coverage last year. "We need them," he says of UNC-TV, "but we need assurances that they can't have the people who control their budget telling them to run a piece that was paid for by the opposition. We need assurances that won't happen again."
Not to be outdone, Republican Mitch Gillespie, another Alcoa supporter, says he'll put Alcoa aside during budget discussions and simply weigh UNC-TV's value against critical services such as education and public safety. "Will they have to be cut?" Gillespie said. "Sure. Eliminated? That's another question."
I'm sure Gillespie's word is every bit as reliable as the word of Thom Tillis, who, in his short tenure as Speaker, has already proven himself to be a lying sack of crap.
Tweet