Weekend wound-up: Running government like a business
Submitted by James on Fri, 02/15/2008 - 10:59am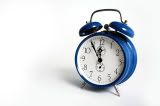 Free-market extremists say they want to run government like a business, except in one really important way. They don't want government to compete. Odd isn't it? If what they say is true about free markets, the Invisible Hand of Capitalism depends on competition to do its magic.
Let government compete?
Tweet
Twitter feed
Our Twitter feed is being periodically attacked and corrupted by Americans for Prosperity. Visit their Facebook page and tell them what you think about their bullying tactics.