Which of these two women is doing the most damage to North Carolina?
Submitted by James on Wed, 09/25/2013 - 9:10am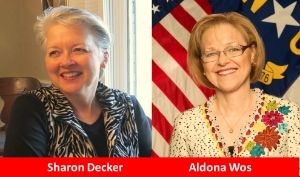 Sharon Decker has it good these days. With Aldona Wos serving as a mighty sh/t screen, Decker has been able to fly comfortably below the radar. And just what is Secretary Decker doing under this cloak of invisibility? She's giving away millions of taxpayer dollars to special interests.
According to its incorporation papers, the new nonprofit will be "collaborating with the North Carolina Department of Commerce to assist, promote, and enhance economic opportunities, particularly in the State of North Carolina's rural and urban communities; and involving the private sector in a meaningful and material way in economic development efforts previously undertaken by the State of North Carolina and its instrumentalities and political subdivisions, and thereby lessening the burdens on, and of, government."

Although the incorporation papers don't specify, the initial 15-member board would be appointed by the governor, speaker of the House and Senate president pro tem, according to Senate Bill 127.
This is all that McCrory and Decker know how to do: take money from taxpayers and shove it into the pockets of "a new nonprofit" comprised of 15 McCronies. I have a better idea.

Tweet
Tagged: