I read in the Charlotte Observer today that you have done something remarkable. Jim Morrill reports that you have taken a stand.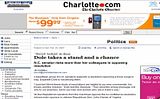 This encouraging sign brings me to this request:
Senator Dole: Will you join us in taking a stand against the OLF at Site C?
The fact is, you are the only person who can stop this train dead in its tracks right now. I'll even write the script for your remarks:
Friends,

Today I announce that I am withdrawing my support for the Navy's Outlying Landing Field at Site C in Washington County.

A few years ago, I was willing to believe that the Navy had thought all this through. I supported their plans because I support my country and I am committed to maintaining our military in top fighting shape.

But I was wrong on this issue. And Site C is the wrong place for this training facility.

The Navy has misrepresented the dangers to our pilots, the threats to family farmers and the risks to the environment in North Carolina. After studying this issue deeply and talking with people all across our state, it's clear to me that we cannot allow an Outlying Landing Field on Site C.

I hope we can find another place in North Carolina to carry out this mission. I will work with Congressman Jones, in particular, to see if we can come up with a good alternative. And I hope my Democratic colleagues in the Senate will join me in doing the right thing.

Thank you.