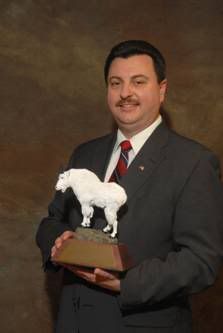 Plymouth Mayor Brian Roth
Hooray for the Governor! It would appear a straight shot may have been fired across the Navy's bow last week when Plymouth Mayor Brian Roth was presented Governor Easley's prestigious Municipal Conservationist of the Year Award, at the N.C. Wildlife Federation banquet. It was part of the 2006 Governor's Conservation Achievement Awards program. This is a huge award and hopefully an endorsement for his unbelievably powerful opposition to the Navy's proposed OLF. An outstanding choice for this award!
The Mayor, North Carolinians Opposed to the Outlying Landing Field (NO-OLF) and over 100 other national, state and local organizations have done an exceptional job of standing up for our state. They are protecting all of our rights and the wildlife habitat of eastern North Carolina. NO-OLF
We hope the Governor has acknowledged, through this award, what is really being done to the people in our own state, by the people of Virginia, and by our own federal government. We applaud the Governor for this award. This OLF is not good for the environment and wildlife. By recognizing Mayor Roth with this award, it is telling others across our country and within our state, that while we can support our military, we do not have to sacrifice anyone's rights or the environment.
We hope our Governor really gets out in front of this disaster by telling our federal delegation to support North Carolina and say, "NO OLF"! We trust this is a sign of greater things to come from Easley. Our expectation is for our Governor to speak at ALL of the Navy's public hearings and for him to lead our elected delegation by example.
Sen Dole, Sen. Burr and the rest of our federal delegation should get behind Governor Easley, U.S. Cong. David Price, U.S. Cong. G.K. Butterfield, Mayor Brian Roth, North Carolinians Opposed to the Outlying Landing Field and the citizens of our great state. Let Virginia keep their "sound of freedom", we want to keep our current "sound of freedom" in tact. Thank you, Mayor Roth, as well as all the people working at all the alternative OLF sites. Our message is being heard, this OLF is not needed anywhere in NE North Carolina. Keep the faith and keep up the great work!
Just remember, the Gov. of Virginia and ALL of their officials were all over the TV, with press conferences and the whole nine yards, during the BRAC hearings. Our state leadership had better get in the game – NOW! The court-ordered Draft Supplemental Environmental Impact Statement is slated to be released by the Navy on Friday, February 23.
P.S. Congrats to Mayor Brian Roth!!!