When employers no longer even want to talk to you:
But just how bad is it for the long-term unemployed? Ghayad ran a follow-up field experiment to find out. In a new working paper, he sent out 4800 fictitious resumes to 600 job openings, with 3600 of them for fake unemployed people. Among those 3600, he varied how long they'd been out of work, how often they'd switched jobs, and whether they had any industry experience. Everything else was kept constant. The mocked-up resumes were all male, all had randomly-selected (and racially ambiguous) names, and all had similar education backgrounds. The question was which of them would get callbacks.

It turns out long-term unemployment is much scarier than you could possibly imagine.
I know this is depressing as hell, but I had to post it. Many on the right favor the meme that long-term unemployed simply aren't trying to get a job, and I'm sure there are some that aren't. But the vast majority are breaking their asses trying to find something, and they don't deserve to be treated the way the NC GOP is treating them. The sadness continues:
The results are equal parts unsurprising and terrifying. Employers prefer applicants who haven't been out of work for very long, applicants who have industry experience, and applicants who haven't moved between jobs that much. But how long you've been out of work trumps those other factors. As you can see in the chart below from Ghayad's paper, people with relevant experience (red) who had been out of work for six months or longer got called back less than people without relevant experience (blue) who'd been out of work shorter.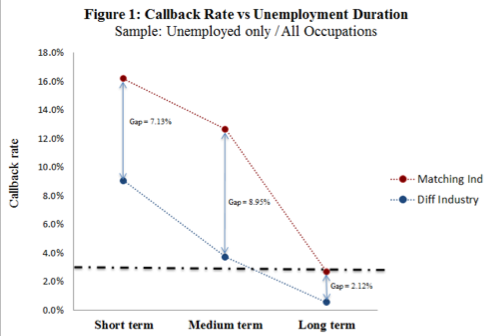 Look at that again. As long as you've been out of work for less than six months, you can get called back even if you don't have experience. But after you've been out of work for six months, it doesn't matter what experience you have. Quite literally. There's only a 2.12 percentage point difference in callback rates for the long-term unemployed with or without industry experience. That's compared to a 7.13 and 8.95 percentage point difference for the short-and-medium-term unemployed. This is what screening out the long-term unemployed looks like. In other words, the first thing employers look at is how long you've been out of work, and that's the only thing they look at if it's been six months or longer.
If there are any employers reading this (I'm sure there's a few), please show a little more empathy. Not to mention intelligence. The scope of this recession is such that all former assumptions should be tossed out the window. Sure, if you're connected, you can have some important people make a few calls and hook you up. Unfortunately, most of us aren't connected, but that doesn't mean we're not damned good workers. And here's the kicker: if you're a human resources director or personnel manager, and you use idiotic arbitrary methods to screen potential hires, guess who's probably going to be standing in the unemployment line soon? Exactly.