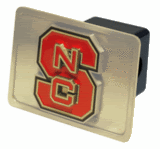 Rumors or reality? NC State is all a-twitter either way.
Toby Parcel, dean of the College of Humanities and Social Sciences at NC State, has apparently been pressuring department heads to come up with proposals to submit to the Pope Foundation. One department discussed this possibility at its February 14, 2007, faculty meeting.
Several faculty members noted that the values and agenda of the Pope Foundation are incompatible with the values and mission of a public university. In view of this conflict, department faculty decided that they did not want to seek Pope Foundation funding or have anything to do with the Foundation.
The student newspaper at NC State, The Technician, reported in a recent editorial that David Riggs, vice-president of operations and programs at the Pope Foundation, said that the foundation will give no more money to NC State unless the faculty members who made derogatory remarks about the foundation apologize for those remarks.
Wow. Art Pope thinks he can use his money as a lever to quash the free speech rights of university professors. Which is not surprising since the Puppetmaster doesn't play unless he's holding all the strings. To my knowledge.
What better evidence does anyone need this is someone from whom any university worthy of the name should keep its distance?
Mr. Pope should apologize for trying to undermine the integrity of the academy.