No, not in person, sadly -- just in a post. Don't hate me for getting your hopes up. :)
The Democratic Women in these parts started a fund-raiser last year we call "Lunch in a Bag." It consists of amazing chili and brunswick stew (with other stuff like bread and cookies, etc.) and its sold and prepared by pre-order especially for folks to have on the first weekend of March Madness.
Well, the chili is now in the final phase. Flavors are melding and the consistency is approaching perfect. My work is nearly done, so I'm sitting here with my French press coffee and not much else to do. I'd write a new post, but this morning I'm not sure I could figure out what 2+2 is, much less make any sense in a written composition. Since we have a whole lot of new registrants and traffic here at blueNC and Saturday is usually a relaxed day, I thought I would finally cross post something I put up at dKos back in December. Its about Elizabeth Edwards.
Oh. right. You probably figured that out by the post Title. See? Not too sharp this morning.
Why don't we just skip right to the post? ;)
This isn't a book review, though I've read her book and loved it. This post was just me sharing my experience at her book signing in Fearrington. NCDem did all the graphics and vlogging. Hope you enjoy.

-------------------------------------------
Elizabeth Edwards: A long night of steady grace and care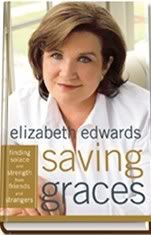 "Saving Graces: Finding Solace and Strength from Friends and Strangers" by Elizabeth Edwards
Fearrington Village, NC Book Signing with Elizabeth Edwards


The evening at Fearrington turned into a late night.
I had forgotten to eat lunch yesterday, I didn't stop for dinner and there is an achy nasty cold trying to get the best of me, but last night I didn't even care. Meeting Elizabeth Edwards will surely remain one of the most memorable events of my days.




The evening began at 7:00. When I arrived at about 6:45, Mrs. Edwards was eating in a private little corner of the big Fearrington Barn with her children. There were about 400-500 white folding chairs set up for attendees and the barn was decked in white muslin and tiny white lights as though a wedding were about to begin. It's a large space. And it was packed. Mrs. Edwards spoke and read from her book and took questions from the audience. And then she began signing books.
I've been to book signings before. They are almost always oddly hurried processes. This one was different. Mrs. Edwards sat in the chair and had a real, unhurried, full conversation with each person who came to speak with her. She never once appeared inattentive. Several people obviously had stories of their own to share with her. She listened to everyone. She gave hugs. She called for tissues. And she was just like that until the very last person had shared their story and said their thank you's ... even me.
I stayed for the entire evening. I was hanging out with other bloggers who were taking pictures and I somehow became the defacto line stander. I was more than happy to do it and I am so glad that I did. I learn so much by watching and listening. But I ain't stupid. They were standing with tripods and cameras. I got a chair. I got some diet Pepsi ... in a wine glass, mind you ... from the bar. I sat down, read a little, talked a little, listened a lot, and then after what seemed like three days of reading and talking and laughing, I got up to stand at the end of the line when there were about five people left.
Through the entire evening, Mrs. Edwards never wavered or flagged. One of the last couples in line had driven down from Virginia. Their daughter had been one of Senator Edwards' Military Academy appointees. They were sharing stories of how much that appointment had meant and how grateful their daughter was for the opportunity she had been given.




At the end of the evening, we bloggers left. Mrs. Edwards still had two tall stacks of books yet to sign for folks who had left or sent theirs because they were unable to come or to stay. She asked for the first book and as we were walking out the barn's southern end, I turned around to see Elizabeth Edwards, at 11pm, reading the note left for her by the first book's owner.
I was so tired, and she was still there, having a silent but attentive conversation with one of her readers like there was nobody else in the world.
Elizabeth Edwards must surely be the personification of grace and genuine serenity. What an inspiring First Lady she would be. Her light seems woven with generous threads of humility, strength and amazing intelligence.
Her husband ain't such a slacker, either. :)
You know, if you think about it, there has to be something deeply strong and good about a man who can make a woman like that fall in love with him.
[props to NCDem Amy for all the pics and the video]
Video: Part I of Raleigh, NC Book Signing with Elizabeth Edwards
Video: Part II of Raleigh NC Book Signing with Elizabeth Edwards
For more about Elizabeth Edwards: One America Committee